Diet Fat Free Live Yogurts
County Offaly, 2021
"Pear and Mango beyond excited"
Yours are supreme
Sandie UK, 2021
"They are delicious, thick, creamy, fruity and by far the best yogurt I have ever tasted"
Custard Style Yogurts
Mayo, 2021
"Great to be united with Custard Style after so long sojourn abroad"
"I want to congratulate you on your yogurts"
Whole Milk Natural
Fiona - Wicklow, Ireland 2020
"Nice smooth texture"
Absolutely Delicious
Eithne - Cork, Ireland 2019
"I have just tasted your Yogurts for the first time today, and I must say they were absolutely delicious, From now on I will not be purchasing any other yogurts only yours."
Yummiest Yogurt Ever...
Veronica - Dublin Ireland
"Bought your madagascar vanilla yogurt today at rds, omggg its yummiest yogurt ever"" wish id bought more now"
Really NIce!
Keith - Offaly, Ireland
"They are really nice. Got loads at the ploughing this year and buy them in Tescos regularly"
The Best
Carole - Cork, Ireland 2019
"Irish yogurts are the best. I adore them"
Tasty!
Margaret - Rosscarbery, Ireland 2018
"I can't wait for my next supply of the most creamy and tasty products, totally yum!!!"
Yum Yum
Claire - Bandon, Ireland 2019
"What a fab way to start the new year with some Irish Yogurts for breakfast or a snack during the day…… Yum yum…."
Full of Flavour
Emma - London, United Kingdom 2019
"I love Irish yogurts they are full of flavour and delicious"
"My favourite yogurts delish and healthy"
Gorgeous.
Gillian - Cork 2018
"Really gorgeous!!!"
"Healthy & Yummy"
Anne, Clonakilty, Ireland
Sicilian Lemon is my fav but bring on the seeds & grains, healthy & yummy!! X"
"LOVE Irish yogurts"
Claire, Dublin, Ireland
I absolutely LOVE Irish yogurts!!!
"Absolutely deeeeeelicious!! What a treat"
Tom Ireland July 2019
I recently tasted your live yogurt, the Sicilian Lemon variety where I was almost lifted out of the shoes I was stood in such was the delight. Absolutely deeeeeelicious!! What a treat. Beautiful yogurt, generous portions and very well presented. A great product that I'm sure is doing very well. Credit to the makers & the very best of luck. Thank you.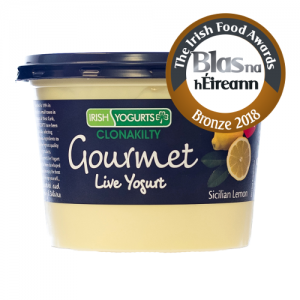 [/vc_row_inner]