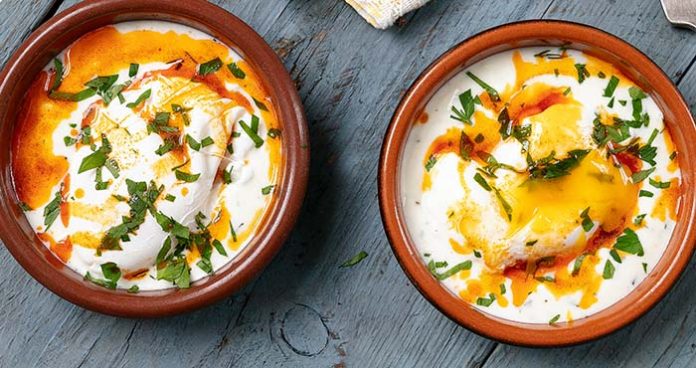 Turkish Poached Eggs with Yogurt and Chilli Butter
By Irish Yogurts Clonakilty 
Courtesy of Easy Food
Turkish Poached Eggs with Yogurt and Chilli Butter By Irish Yogurts Clonakilty
Method
Melt the butter in a small pan over a low heat. Stir in the paprika and chilli powder. Cook for one minute until the butter is beginning to brown a little, then remove from the heat.
Bring a pan of water to a bare simmer and poach the eggs for 2-3 minutes or until cooked to your liking. Carefully remove using a slotted spoon and drain on kitchen paper.
Divide the yogurt between two bowls. Add an egg to each portion, then drizzle over the paprika butter and scatter with a little parsley. Serve with the toasted sourdough for dipping.
Ingredients
1 small garlic clove, crushed
1 tbsp fresh dill, finely chopped
1 tbsp olive oil
Salt and black pepper
50g butter
½ tsp smoked paprika
½ tsp chilli powder
2 eggs
2 tbsp fresh parsley, chopped
2 slices of sourdough, grilled or lightly toasted
Upload your own Recipe!
Error: Contact form not found.