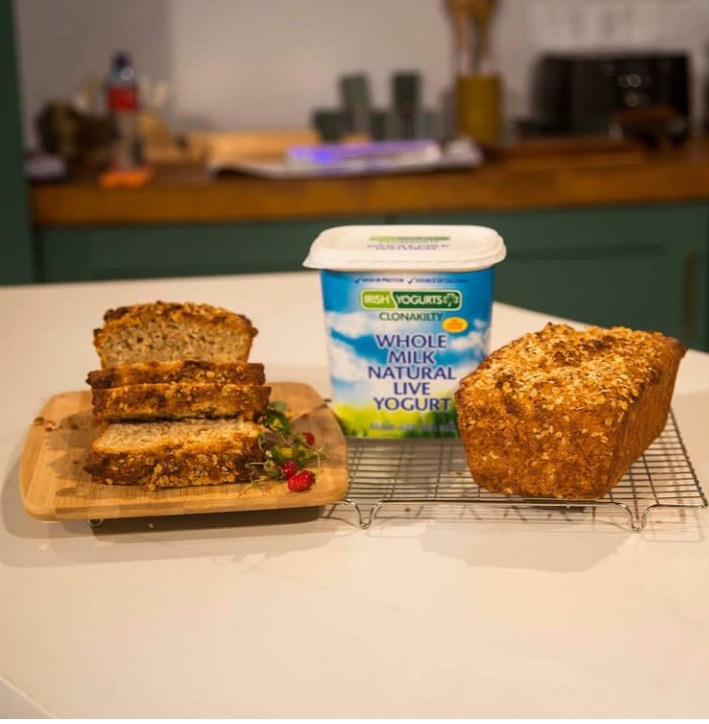 Chef Eunice Power's Brown Bread
By Irish Yogurts Clonakilty
Eunice Power's Brown Bread By Irish Yogurts Clonakilty
Method
Preheat oven to 200°C Fan
Mix the flour, bread soda, sugar and salt in a bowl
Combine egg, sunflower oil and Irish Yogurts Clonakilty Whole Milk Natural Live Yogurt and then mix into the flour. Add a little more sunflower oil if the mixture is dry – it should be a soft dough.
Pour the dough into a lightly oiled loaf tin. Sprinkle the porridge oats over the top of the loaf.
Bake for 45-50 minutes. To know when it is cooked simply tap the bottom of the loaf – it will sound hollow when it is fully cooked.
Remove from the tin and wrap in a clean tea towel while cooling. This will keep the crust soft.
Ingredients
200g Wholemeal Flour
200g Plain White Flour
50g Oatmeal
1 tsp Bread Soda
1 tsp Salt
1 egg
1 tbsp Sunflower Oil
1 tsp Brown Sugar
Upload your own Recipe!
Error: Contact form not found.