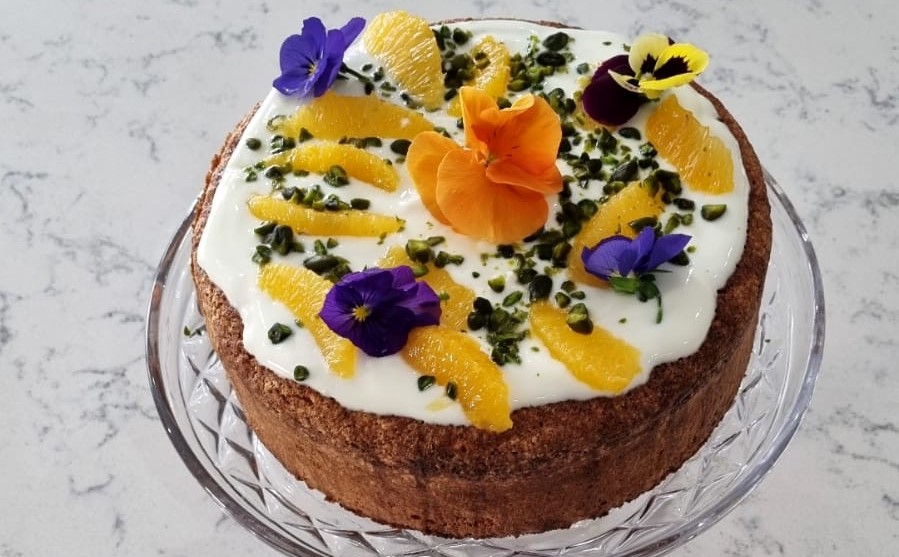 Chef Edward Hayden's Orange and Almond Cake
By Irish Yogurts Clonakilty
Orange & Almond Cake By Irish Yogurts Clonakilty
| | |
| --- | --- |
| Prep Time: | 5 min |
| Total Time: | 5 min |
| Category: | Dessert |
Method
Cake
Preheat oven to 180C/350F/Gas Mark 4
Lightly grease and line an 8 inch/20cm deep round cake tin
In a mixing bowl beat the egg yolks with the sugar and orange zest to a pale light cream with a whisk, add the ground almonds and mix well. At this stage the mixture will be very stiff but don't worry about that!
Stiffly beat the egg whites until they are meringue like and then beat in half of the egg white mixture into the almond mix to loosen it up. Gently fold the remaining egg white into almond mixture.
Pour into the tin and bake in the oven for approximately 45 minutes until set. A skewer inserted in the centre should come out clean. Allow the cake to set in the tin for a few minutes and then invert onto a wire tray and allow to cool down.
Topping
Once the cake has cooled, transfer it to a large cake stand. Squeeze the juice of the orange over the cake and allow it to soak through (If desired pierce the cake with a skewer to assist the juice in soaking the sponge.)
Pour the yogurt on top and spread to the edges. Garnish the cake with the orange segments, edible flowers and crushed pistachios.
Ingredients
Cake
10oz/300g ground almonds
7oz/200g sugar
6 eggs-separated
Grated peel of 1 orange
Topping
Juice of 1 orange
Orange segments
1oz/25g pistachios-crushed
Edible flowers
Upload your own Recipe!
Error: Contact form not found.