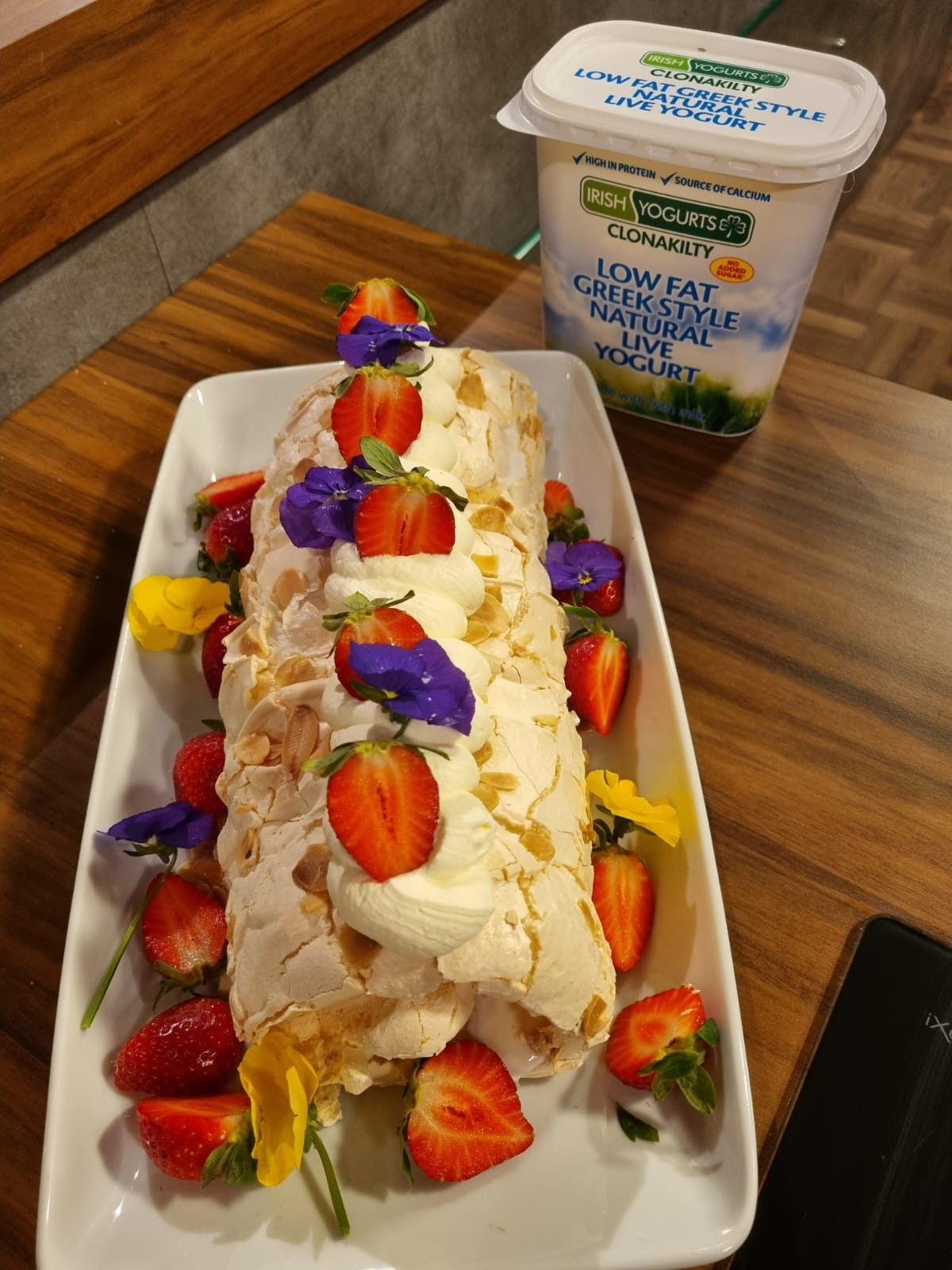 Chef Edward Hayden's Rhubarb Meringue Roulade
By Irish Yogurts Clonakilty 
Rhubarb Meringue Roulade By Irish Yogurts Clonakilty
Method
Line a large Swiss roll tray (13 x 9 ½ inches) with parchment paper ensuring that both the base and the sides are covered.
Put the egg whites into a large, spotlessly clean, mixing bowl and beat rapidly until the mixture forms stiff peaks. You can use an electric hand whisk or a food mixer for this process. When the mixture has formed the peaks add in the sugar gradually, whisking thoroughly between each addition. When the correct consistency is achieved, the mixture should be glossy and stiff.
Spread the mixture onto the prepared baking sheet and sprinkle with the flaked almonds.
Bake at 150°C for 20 minutes until lightly browned. Allow to cool in the tin.
To Assemble the Roulade
Turn out onto a large piece of parchment dusted with icing sugar, facing the side with the flaked almonds down and ensure that the meringue is completely cold.
Spread with the Irish Yogurts Clonakilty Whole Milk Natural Live Yogurt.
Carefully add on the chilled rhubarb compote and roll up in one fast action Pipe some additional cream on the top and arrange some extra berries on the top.
Decorate with mint leaves. Transfer to the serving platter and dust with icing sugar.
Rhubarb Compote:
Bring to the boil for 5-8 minutes. Allow to cool and use as required.
Ingredients
4 large egg whites
225g caster sugar
50g flaked almonds
Whipped Cream, Mixed berries & Mint Leaves-To Garnish
Rhubarb Compote:
3-4 sticks rhubarb-sliced
100g caster sugar
1 tablespoon water
1 teaspoon grenadine syrup
Upload your own Recipe!
Error: Contact form not found.