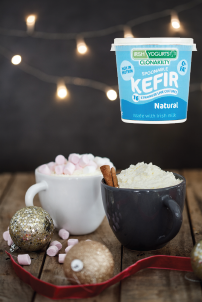 Deluxe Kefir Hot Chocolate
Courtesy of EasyFood
Deluxe Kefir Hot Chocolate Courtesy of EasyFood
Method
In a saucepan, stir together chopped milk or dark chocolate, chopped white chocolate, Irish Yogurts Clonakilty Natural Kefir and milk.
Cook over a medium-low heat, stirring occasionally, until the hot chocolate comes to a simmer, but don't let it come to a boil.
Remove from the heat and serve immediately topped with whipped cream or marshmallows if desired.
Ingredients
100g chopped milk or dark chocolate
100g chopped white chocolate
500ml milk
Upload your own Recipe!
Error: Contact form not found.