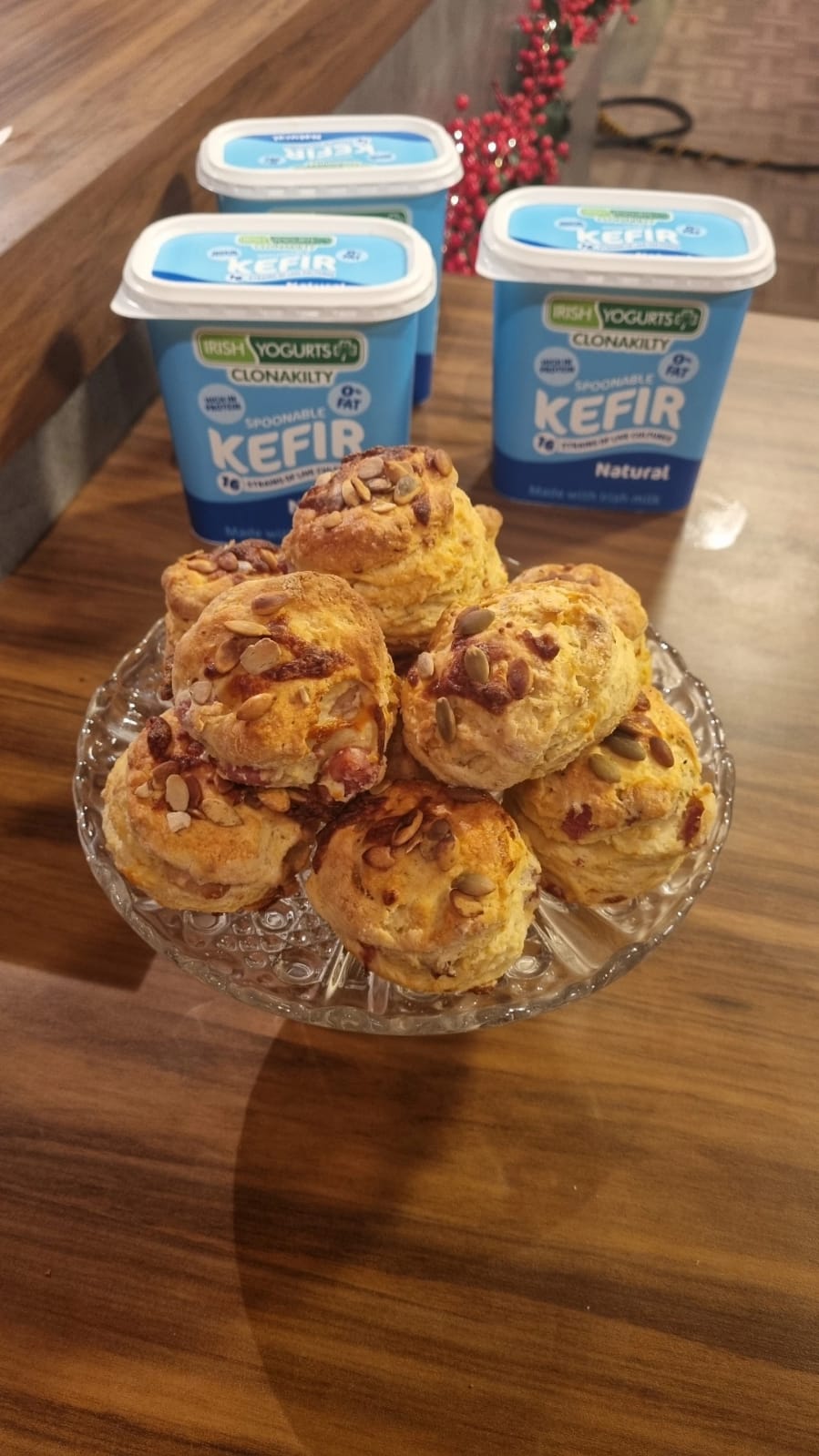 Edward Hayden's Bacon and Thyme Scones
By Irish Yogurts Clonakilty 
Bacon and Thyme Scones By Irish Yogurts Clonakilty
Method
Begin by heating a pan. Dry fry the bacon lardons until they are beginning to brown up. No need to cook until crispy as they will be going into the oven. Allow to cool.
Preheat the oven to 180°c Gas Mark 4. Prepare and Grease a flat baking tray. In a large bowl place your sieved flour and cayenne pepper.
Add the salt and diced butter. Gently rub the butter into the flour. Add the grated cheese, cooked bacon and chopped thyme.
In a separate bowl lightly whisk the egg together and add to the dry ingredients. Mix in the yogurt and a little milk (if required) to achieve a soft sticky dough.
Roll out on a floured work surface and cut into equal sized shapes using either a sharp knife or a scone cutter.
Brush lightly with beaten egg and milk and sprinkle with the pumpkins seeds or a little extra cheese if you wish.
Bake in the oven for 25 minutes.
Serve warm with butter.
Ingredients
450g self raising flour
Pinch salt
1 teaspoon cayenne pepper or paprika
75g grated cheddar cheese
75g butter
1 large egg
Milk to combine, as required (Approx. 50-100ml)
150g bacon lardons
2 teaspoons of freshly chopped thyme
1 egg
3 tablespoons milk
Pumpkin Seeds
Upload your own Recipe!
Error: Contact form not found.