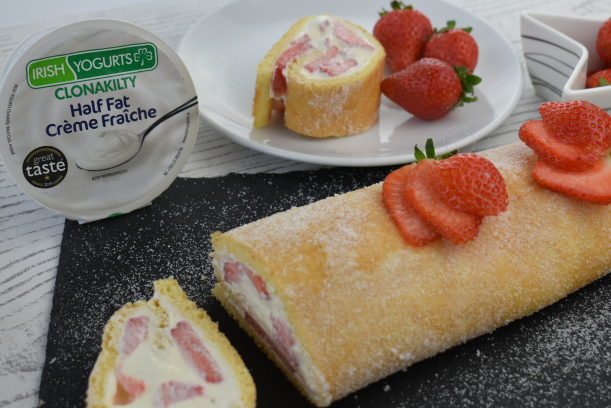 Swiss Roll
By Irish Yogurts Clonakilty 
Swiss Roll By Irish Yogurts Clonakilty
Method
Preheat your oven to 160°C fan.
Grease and line a 16 x 28 cm Swiss roll tin with parchment paper.
Beat the eggs and sugar together for 5 mins with an electric whisk until batter becomes thick and pale. Gently fold in the flour in batches using a large spoon. Pour the mixture into the tin and gently spread into the corners. Bake for 10-12 mins until just golden and firm.
While the sponge is baking, sprinkle sugar over approx. 16x28cm of parchment paper.
Gently turn the baked sponge onto the sugared paper and peel off the lining paper. Roll up the sponge in the sugared paper and leave to cool in a rolled shape.
While your sponge is cooling, whip your crème fraiche for about a minute, and half your chosen berries. Once the sponge is cooled, unroll and cover with a generous layer of whipped crème fraiche and berries. Roll again and serve.
Ingredients
2 Large Eggs
50g caster sugar, plus 2 tbsp. for dusting
50g self-raising flour, sieved
100g Strawberries, raspberries or any mixed fruit
Upload your own Recipe!
Error: Contact form not found.