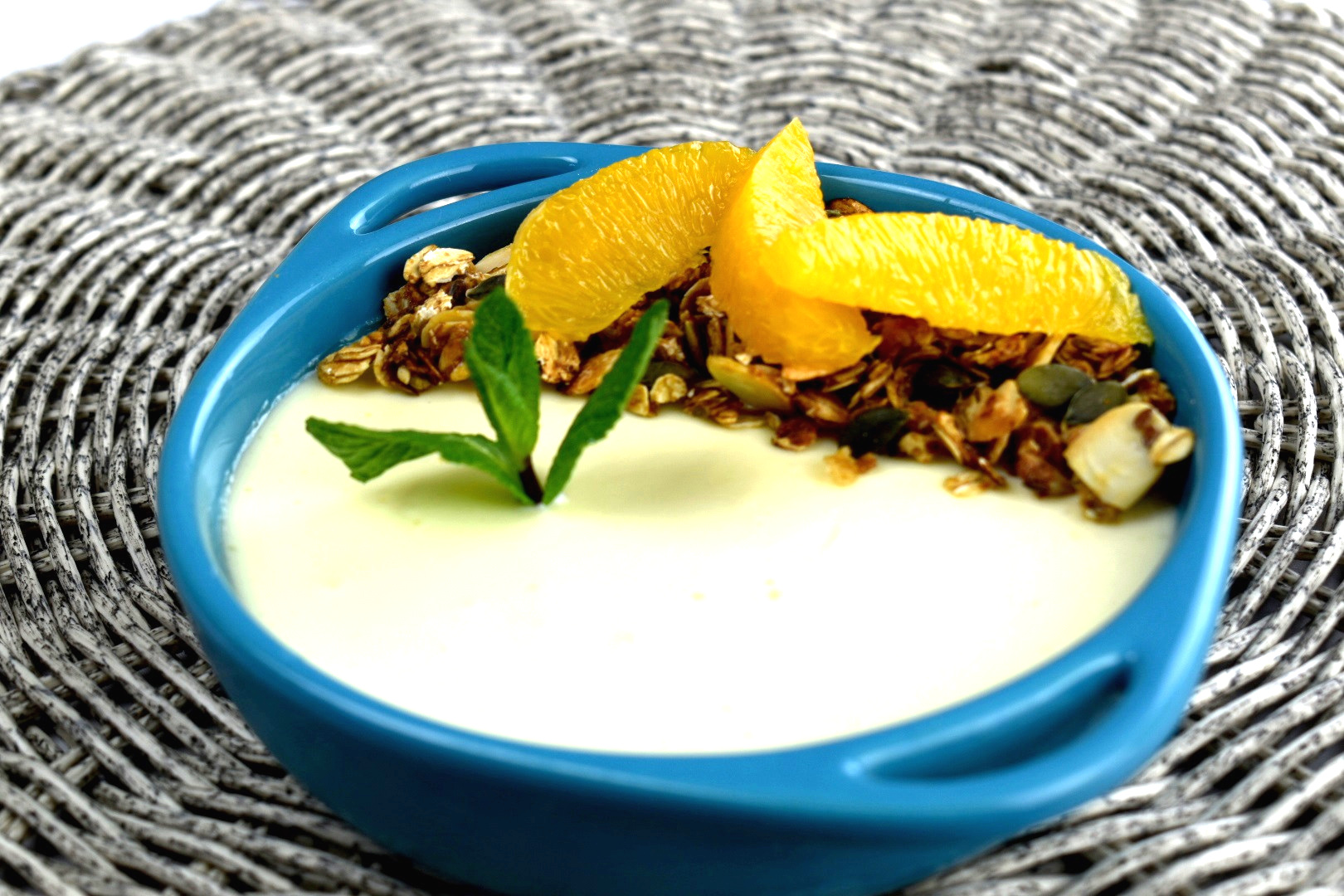 Baked Yogurt
By Irish Yogurts Clonakilty
Baked Yogurt By Irish Yogurts Clonakilty
Method
For Baked Yogurt
Place the cream, bay leaves and cardamom pods into a pot.
Turn the pot on a very low heat and allow to infuse for 20 minutes.
When infused cool completely then add the condensed milk and the Irish Yogurts Clonakilty Low Fat Natural Live Yogurt or Irish Yogurts Clonakilty Low Fat Greek Style Natural Live Yogurt
Place in the fridge for 24 hours and allow the flavour to infuse for longer.
After 24 hours strain the liquid into the medium sized oven-proof ramekins. Cook the yogurt in a Bain Marie (a deep tray with boiling water) in a pre-heated oven at 130C for 15 minutes.
The yogurts will have a slight wobble when cooked. Allow to cool fully before serving.
For Granola
Place the oats, salt, pumpkin seeds, flaked almonds, sunflower seeds and orange zest into a large bowl. Mix together.
In another bowl combine the coconut oil, golden syrup, brown sugar and vanilla extract. Heat in the microwave until the sugar has all dissolved. Pour the sugar liquid over the oats mixture and mix thoroughly until the oats are fully coated.
Spread the oats onto a baking tray lined with parchment paper and place in oven at 180c. After 10 minutes give the oats a stir around and return to the oven for another 10 minutes. Remove from the oven and cool.
To serve place the granola on top of the baked yogurt and top with orange segments.
Ingredients
For Baked yogurt
For Granola
300g jumbo oats
Pinch maldon sea salt
50 g pumpkin seeds
75g sunflower seeds
75g flaked almonds
2 oranges, zest
60g brown sugar
60g golden syrup
1tsp vanilla extract
30g coconut oil
Orange segments
Upload your own Recipe!
Error: Contact form not found.