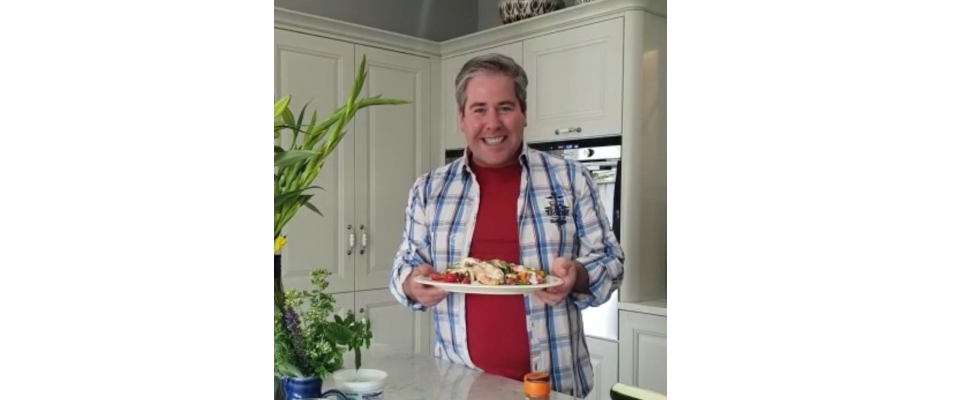 Chef Edward Hayden's Warm Oriental Chicken Salad
By Irish Yogurts Clonakilty
Warm Oriental Chicken By Irish Yogurts Clonakilty
Method
For Salad
Use a vegetable peeler to cut the carrots and courgette into long ribbons
Pile the lettuce leaves onto a large serving platter
Neatly arrange the ribbons and then sprinkle the tomatoes, pepper and spring onion
For Dressing
Combine all the ingredients and leave in the fridge until required
For Chicken
Preheat oven to 190°C
Place the chicken in a large bowl
Add the lime juice, yogurt and chilli powder and mix well to ensure that all the chicken is fully coated with the spices.
Place the chicken on a baking tray lined with parchment paper and bake for 12-15 minutes or until chicken is cooked through
Assemble
Place warm chicken on top of the salad and garnish with the dressing and fresh herbs
.
Ingredients
Sweet Chilli Chicken
2 chicken breasts sliced in strips
Juice of ½ lime
½ tsp of chilli powder
Oriental Dressing
1 tsp rapeseed oil
Juice of ½ lime
Cracke Black Pepper
Pinch of dried chilli powder
Salad
7oz/200g of mixed lettuce leaves
8-10 cherry tomatoes halved
1 courgette
1 carrot
3-4 stems of spring onions sliced
1½ peppers cut into small pieces and roasted
Fresh herbs to garnish
Upload your own Recipe!
Error: Contact form not found.