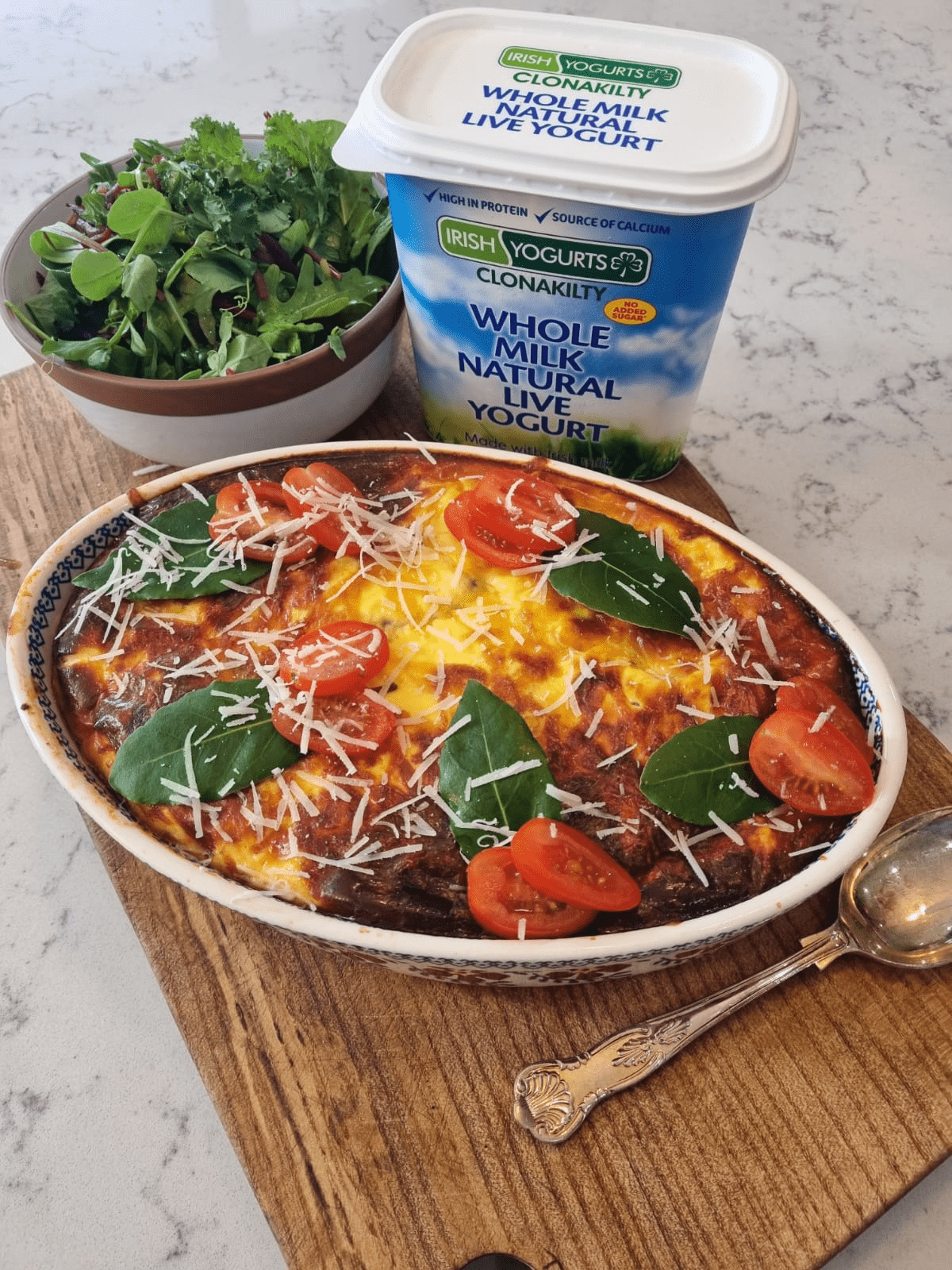 Vegetarian Moussaka by Chef Edward Hayden
By Irish Yogurts Clonakilty
Vegetarian Moussaka By Irish Yogurts Clonakilty
Method
Preheat the oven to 180C/350F/Gas Mark 4.
Put the lentils in a large saucepan with the vegetable stock. Bring to the boil and then simmer for twenty minutes, until tender. Drain and keep warm.
Meanwhile, heat some oil in a saucepan and cook the red onion, peppers, courgettes, mushrooms and garlic until soft and tender.
Stir in the cooked lentils, chickpeas, chopped tomatoes, purée, herbs and water. Bring to the boil and simmer for ten minutes, stirring occasionally.
Pan-fry the aubergine slices until brown on either side.
Lightly grease a 9inch/23cm square ovenproof dish.
Season the lentil mixture and layer up the aubergines and the lentil mixture much like a lasagne, starting and finishing with the aubergine.
For the topping
Beat the yogurt, milk, eggs and seasoning together.
Pour over the vegetable mixture and then sprinkle the cheese over the top.
Bake in the preheated oven for forty-five minutes.
Serve with a salad or crusty bread.
Ingredients
2 large aubergines, cut into slices (approximately 20 slices)
7oz/200g dried green or red lentils
A little oil for cooking
1 pint/600ml vegetable stock
1 red onion, sliced thinly
2 cloves of garlic
1½ peppers, finely diced
½ courgette, finely diced
8-10 button mushrooms, sliced
14oz/400g tinned chopped tomatoes
14oz/400g can chickpeas, rinsed
1 teaspoon tomato purée
½ teaspoon dried mixed herbs
3½ fl oz/100ml cold water
Salt and freshly ground black pepper
For the topping
10 fl oz/300ml Irish Yogurts Clonakilty Whole Milk Natural Live Yogurt
3 fl oz/ 75ml milk
2 large eggs
Salt and freshly ground black pepper
3oz/75g cheddar or mozzarella cheese
Upload your own Recipe!
Error: Contact form not found.