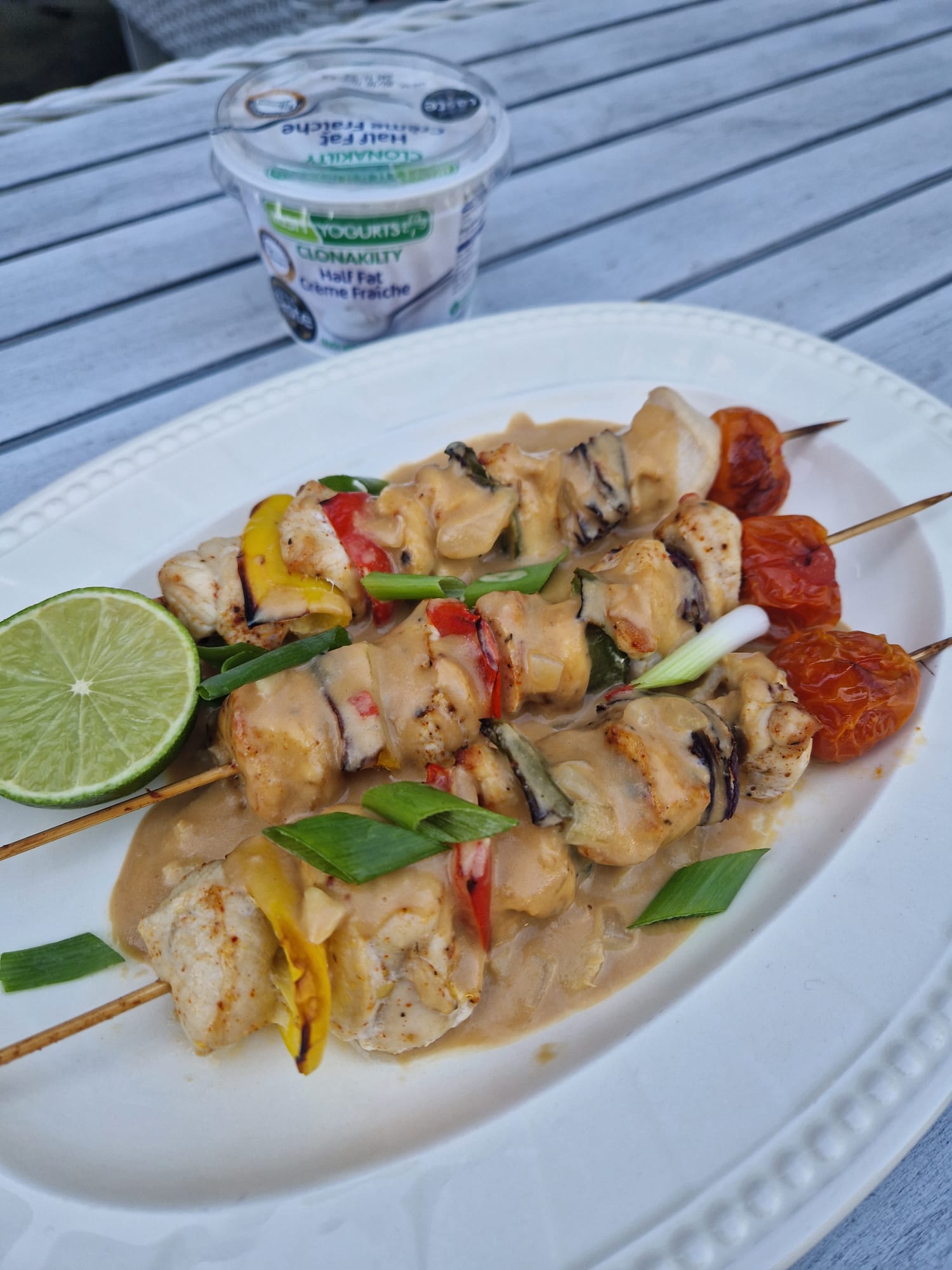 Chicken Satay Skewers
By Chef Edward Hayden
Chicken Satay Skewers by Chef Edward Hayden
Method
For the Chicken
Dice the chicken into pieces and put into a medium sized bowl with the Cajun spice and the oil. Mix until completely coated and then thread onto metal or wooden skewers with some vegetables between each piece of chicken.
These skewers can be cooked in two ways
Cook on a hot barbecue for 10-12 minutes or until the chicken is cooked through.
Place on a baking tray lined with baking parchment and cook in a preheated oven (180C/350F/Gas Mark 4) for 18-20 minutes until chicken is cooked through.
For the Sauce
Finely dice the onion, garlic, chilli & ginger and cook in a little oil over a low heat for 3-5 minutes. Add in the peanut butter, cream and crème fraîche at this stage and continue to cook on a gentle simmer for approximately 10 minutes. Correct the consistency with the water.
Season with the soy sauce and the lime juice and garnish with the chopped spring onions just before you serve.
Serve the chicken skewers with boiled rice and satay sauce.
Ingredients
Chicken Skewers:
4 breasts of chicken-diced into cubes
Mixed vegetables (peppers, onions, cherry tomatoes)-Cut into chunks
2 dessertspoons oil
½ teaspoon Cajun spice
Satay sauce (Which can be made in advance and reheated)
½ medium sized onion
1 large clove garlic
½ red chilli
1 inch fresh ginger
5oz/150g crunchy peanut butter
9oz/250g Irish Yogurts Clonakilty Half-Fat Crème Fraîche
4floz/110ml cream
Juice of 1 lime
1 tablespoon soy sauce
5floz/150ml water (as required)
2-3 stems of spring onions-chopped finely
Upload your own Recipe!
Error: Contact form not found.