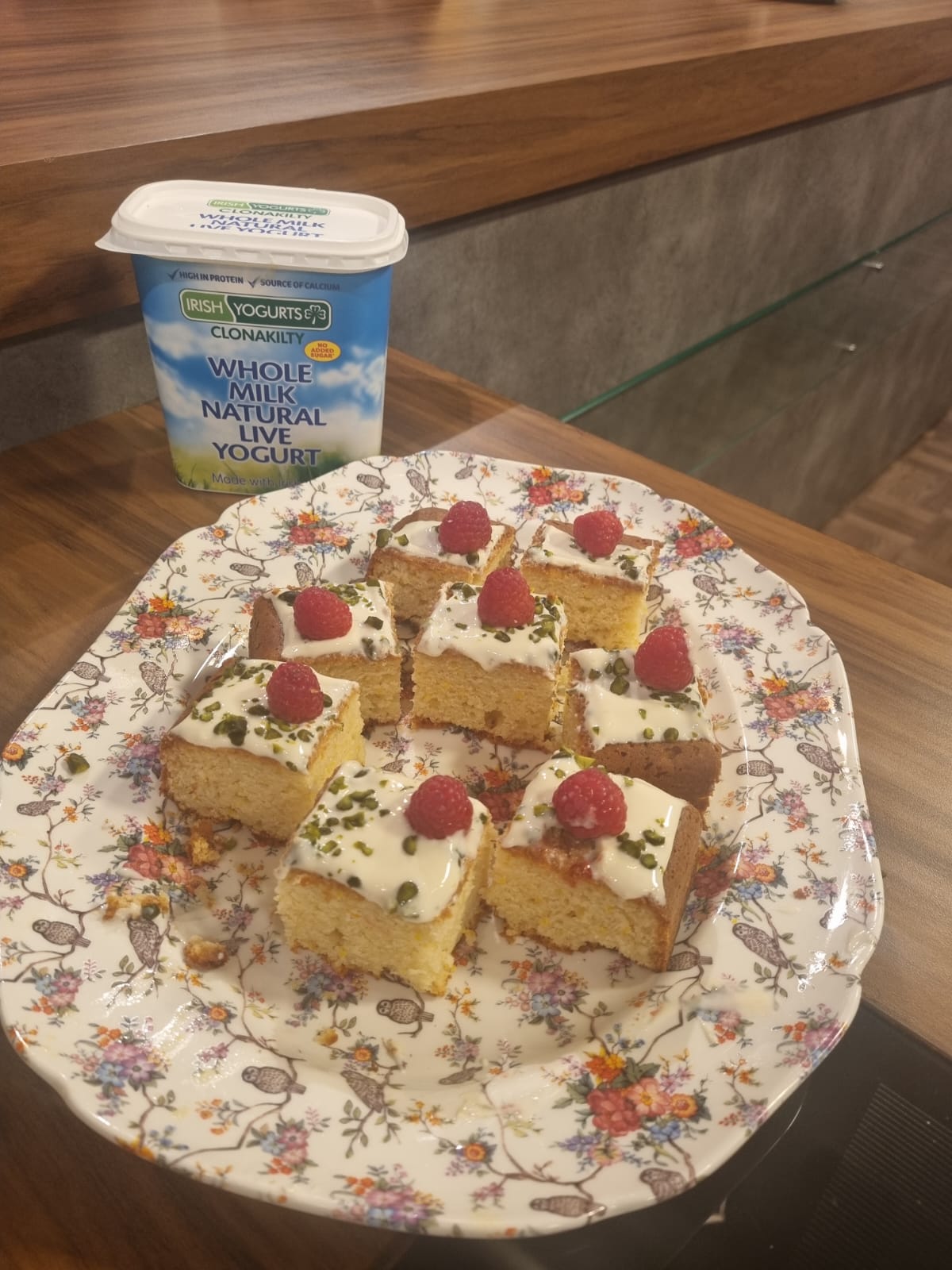 Orange, Almond and Pistachio Yogurt Traybake
By Irish Yogurts Clonakilty 
Orange, Almond and Pistachio Yogurt Traybake By Irish Yogurts Clonakilty
Method
Preheat the oven to 160C/320F/Gas Mark 3
Line a traybake tin with parchment paper
Put the eggs, sugar and oil in a large mixer and beat for 4-5 minutes until well beaten and lightly aerated
Next, add in the orange zest along with the yogurt and mix a little at this stage. The mixture will be quite dense at this stage
Sieve in the plain flour and baking powder, then adding the ground almonds and gently fold them in with a spatula or metal spoon
Spoon the cake mixture into the tin. Bake for 40 minutes or until a skewer comes out clean
Leave to cool for 5 or 10 minutes before turning out on to a wire rack to cool
When the cake is on the wire rack pour the orange juice on the cake to moisten it
Mix the honey and the yogurt together and spread this over the top of the cake and garnish with the crushed pistachios.
Ingredients
Traybake
110g Ground Almonds
110g Caster Sugar
150ml of Sunflower Oil
2 eggs, lightly beaten
Zest of 1 Orange
225g of plain flour
2 tbsp of baking powder
Icing
2 tbsp of Honey
350mls of Orange Juice
1 tbsp of pistachios-crushed
Upload your own Recipe!
Error: Contact form not found.